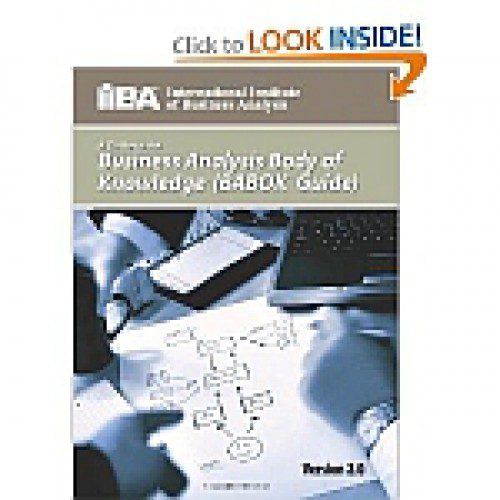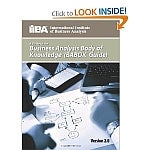 A Guide to the Business Analysis Body of Knowledge
(BABOK Guide) is the collection of knowledge and standards for business analysis practice. What the PMBOK is for project managers, the BABOK Guide is for business analysts. It contains the generally accepted practices as defined and enhanced by the professionals who apply it in their daily work. It is also the basis for the Certified Business Analysis Professional certification and the Certification of Competency in Business Analysis exam.
Book Details
The second paperback edition of the BABOK Guide was published in March 2009 by the International Institute of Business Analysis. It has 272 pages and about 0.7 inch thick. The front cover displays the IIBA logo and name at the topmost part, followed by the book title, and then a black and white photo of what seems to be a work desk with documents being discussed by several individuals as shown by their hands. ISBN-10: 0981129218; ISBN-13: 978-0981129211
Price
$51.98 for the book edition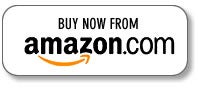 Target Audience
The BABOK Guide is for professionals whose main role is to provide primarily business analysis and also for those that have system analysis, requirements analysis, project management, consulting or business process improvement responsibilities. As a reference for BA professional knowledge, it is a must-read for those preparing for CBAP and CCBA certification exams.
What Customers Say
G. Mesic who teaches a university course in business analysis used the book as the primary text. Although the book does not teach the student how to become experts, it tells them what they need to learn in a systematic and complete way. David Morrs stated that the Guide covers the whole scope from project start-up to post-implementation reviews. It provides an excellent rundown on BA tasks, skills and techniques, with a strong focus on planning and managing, and coverage of the six knowledge areas. Bielza Laurence described the reference book as containing precious guidelines in how to conduct business analysis.
Content, Approach, Style
The
BABOK Guide
contains nine chapters and five appendices. Chapter 1 provides the introduction, divided into eight sections. This chapter discusses what the BABOK is, what business analysis is, its key concepts, knowledge areas, tasks, and other topics. Chapters 2 to 7 discusses the six knowledge areas of BA planning and monitoring, elicitation, requirements management and communication, enterprise analysis, requirements analysis, and solution assessment and validation. Chapter 8 discusses the underlying competencies such as analytical thinking, problem solving, behavioral characteristics, etc. And finally, Chapter 9 discusses the techniques such as evaluation criteria definition, benchmarking, and brainstorming, among others. The presentation of the topics is straightforward. Terms are defined and topics are divided into sections, subsections and short paragraphs, with appropriate headers. Some readers struggle with the language, but understandably, familiarization of the topics is needed before reading. This is not an introductory book about business analysis but a reference for those who have working experience as analysts.
Why Buy the Book
The
BABOK Guide
is a required reading for those preparing to take BA certification exams. Certified business analysts as well as project managers performing BA functions will find this a handy reference that can remind them of the baseline knowledge they should have and refresh them with best practice standards they should apply.
Books that Complement
The PMI's
PMBOK Guide
, Fifth Edition presents a more comprehensive knowledge base of the whole project management practice, including project definition, scope and stakeholder management, among others.
Strategic Project Management Made Simple
by Terry Schmidt focuses on the concept of being strategic, helps find answers to the questions of project objectives, metrics and risks, and provides a practical approach and tool.
Author
Kevin Brennan, PMP, is a Certified Business Analysis Professional, the Chief Business Analyst and Executive Vice President of the International Institute of Business Analysis. In the IIBA, he was one of the charter members and a member of the Board of Directors for three years up to 2009. The IIBA is an independent professional association of business analysts in 2003. Since then, it has become the leading association of professionals working in a range of roles develop their skills and further their career. Mr. Brennan's accomplishments include developing the BABOK Guide version 2, writing the CBAP exam as one of its authors, and speaking on conferences about BA and PM topics.