Table of Contents
What Is a Project Management System?
The term "project management system" usually refers to a category of software with distinct functionality and features that enable users to accomplish various activities of project management according to best business and work practices. In using the PM system, project teams can create plans, estimates, budgets, tasks, schedules, resource allocations, activities, and reports, and also make decisions that help bring about a successful project delivery.
Read also
:
Understanding Popular PM Methodologies and Frameworks
In general, a project management system is any means that systematizes or organizes the management of projects by the use of principles, procedures, methodologies, and tools. Professionals that use a project management system are able to plan, organize, and manage the different aspects of a project in a systematic way that reduces error, confusion, and misinformation.
Back to top
Types of Project Management Systems
Any software can be a part of a project management system if it serves the main purpose. PM system vendors deploy the system through the internet, host them privately, or develop and install it on-premise in a company's server. Various project management software configurations are available for teams and companies to choose from.
Project Management System Software
A project management system software is a comprehensive solution for managing projects. Software companies design and develop this type of PM system for the sole purpose of helping project professionals and business users manage requirements, create estimates, build schedules, track progress, manage budgets, generate reports, measure results, and facilitate communication and collaboration. This system includes core PM functionality and other features that allow users to execute, monitor, control, and review the project throughout its lifecycle.
General Application Software
A general application software such as a spreadsheet, database, and other office software can aid individuals and teams as they try to manage their projects in a more systematic way. These applications can perform a variety of tasks, such as create lists, tables, documents, and charts. However, they are not designed specifically for project management and will require more time, effort, customization, and care to make sure they are inclusive, accessible, accurate, and updated. This system of using general application software may be sufficient for smaller teams and simple projects of short duration and low risk only.
ivity Tools With Integration
Many online productivity tools have improved features and capabilities. Tools such as personal to-do lists, calendars, time trackers, and chat software now include collaborative features to allow teamwork. And they can have integration with each other to extend and expand their capabilities such that team members can see their tasks in common lists, files in online drives, schedules in shared calendars, and comments in group conversations. But to manage projects successfully, teams need more than collaboration; they need unified goals, workflows, and metrics. And integration does not guarantee full functionality of the whole system. One or more tools can affect the performance of the rest of the interconnected PM system.
Back to top
Features of a Project Management System
PM systems follow project management principles, processes, and practices as the basis of their design. Software that qualify as a project management system include core features that allow project teams to complete required processes and activities.
Project Planning and Scheduling
Project planning and scheduling are essential features in the best project management systems. A PM system lets project managers define objectives and scope, identify goals and milestones, assign tasks, budget resources, and build the schedule. A common tool used for project planning is the Gantt chart, and PM software with an interactive Gantt chart view allows users to visualize every step of the project. They can link tasks, identify dependencies, and track progress towards milestones and deadlines, with an easy way to adjust dates that automatically adjust deadlines.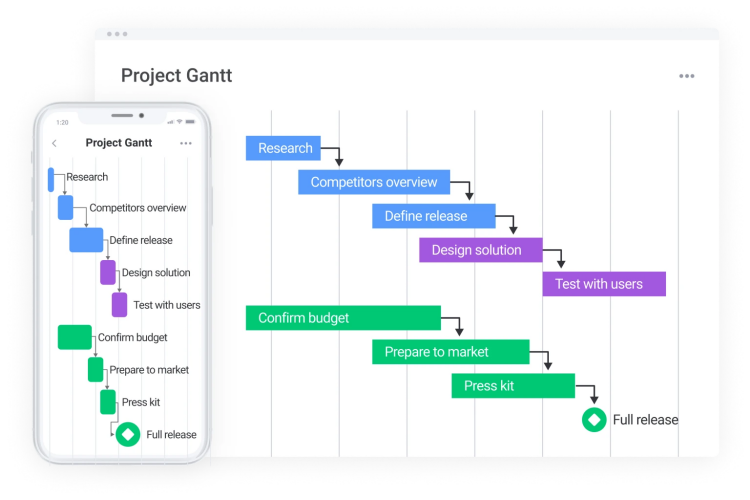 Task Management
Task management helps teams complete projects more efficiently; project managers are able to split large projects into manageable chunks of work that teams can easily complete. Task management features include tools to organize, visualize, and prioritize tasks assigned to project team members. A project management system also provides some form of task analysis and measurement data to help users spot bottlenecks and
blockers
.
Team Collaboration
Modern project management software can accommodate multiple users and teams to streamline the communication process. It brings together individuals from anywhere and lets them share ideas, retrieve files, and discuss work on a shared — but secure — digital workspace. A PM system provides a direct way of communication that is more efficient than using an email inbox. Collaborators can instantly provide feedback and keep a history of the discussion, approvals, and decisions.
Workflow Management
Workflow management is becoming an important feature in project management systems. This feature allows different teams to work on and customize a variety of projects with the same objective. Workflow management lets users define the different steps of a process, enter and update information for each task, and track overall progress towards the end goal. The best project management systems include templates so teams don't have to start from scratch. PM systems can also have intake tools and automation to streamline the change request process.
Read also
:
Kaizen in Your Project Management Workflow
Real-Time Reporting and Analytics
Another crucial feature is reporting. Project managers need up-to-date information on project progress, missed deadlines, issues, and other changes that project sponsors and stakeholders should know. A PM system should be capable of notifying team members of new assignments and upcoming deadlines. Some solutions include ready-to-use reports, customizable reports, and analytics to provide teams with additional insight about progress, finances, performance, and other metrics.
Expense and Time Tracking
Projects have budgets that need tracking to make sure they provide more benefit than cost. A project management system simplifies expense tracking by providing an interface to enter costs and automatically compute the remaining budget. It should also have time tracking, timers, and timesheets to collect and compute the corresponding costs to help project managers keep the project within its budget limits.
Resource Management
Since people are vital components of all projects, resource management is a very important feature of a PM system. This feature allows project managers to match requirements with the needed resources at the right time for higher project efficiency. Furthermore, it shows workload, output, and performance, so managers can optimize team performance without overwork or under-allocation. A PM system can show if there is a need for more resources and help in future planning.
Project Portfolio Management
Project portfolio management is an advanced but valuable feature for businesses of all sizes. A project management system that provides information and analysis to users about the potential return of a project enables a company to prioritize their projects. This way, they can
minimize risks
, ensure adequate resources, and align projects to business goals.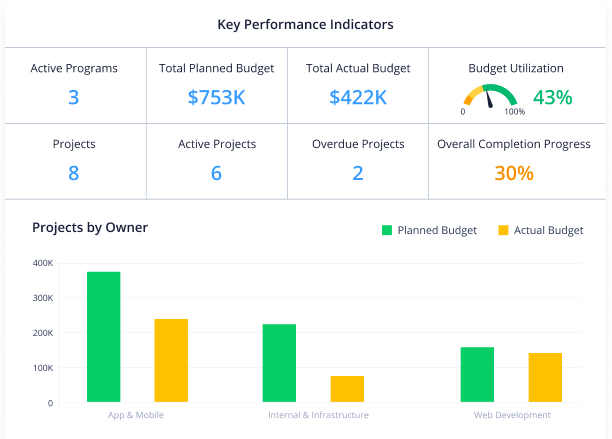 Integrations
Although a PM system enables a team to manage a project from start to end, it is always best to look for a solution with available integrations. Businesses are consolidating processes so a company may choose to connect their CRM (or any other software system) to their project management software. This allows a company to simplify their data flow and streamline processes.
User Administration and System Security
Projects contain valuable data and sensitive information that should stay secure. The best project management systems include user administration and security features to give select role-based permissions. Project managers as administrators decide who can view, edit, or delete information on the system. They can also configure other settings to ensure data integrity and accessibility.
Back to top
Why Use a Project Management System?
Companies want to complete projects within schedule, budget, and scope. But the measure of a truly successful project goes beyond the
triple constraints
by delivering high performance and value to stakeholders. A PM system allows users to account for the most important elements of a project: scope, resources, time, and money. Business leaders can access project KPIs in real time from a PM system and address challenges with data-driven decisions. Other benefits of using a project management system include:
Streamlined processes for managing projects
Improved planning and scheduling
Simplified team collaboration and communication
Effective task delegation and tracking
Centralized access, storage, and sharing of project files
Budget management and cost tracking capabilities
Improved risk mitigation
Enhanced productivity
Back to top
Who Uses a Project Management System
Technical teams are not the only users of project management systems these days. A variety of teams including
PMOs
, sales, marketing, and HR are all now using PM systems. Also, small and midsize businesses are taking advantage of the efficiencies received from using a PM system to be more competitive. At the same time, enterprises are turning to PM systems with portfolio management to align the projects with strategic business goals. Project management systems are common across industries. PM systems have longed been used in many tech companies, as well as architecture, engineering, and construction firms. Today, cloud-based systems that are more intuitive and customizable are now in use in marketing agencies, creative studios, gaming and sports, media and entertainment, financial services, professional services, educational institutions, healthcare and life sciences, as well as state and local governments.
Read also
:
What is Construction Project Management?
Back to top
Best Project Management Systems
Businesses who adopt a PM system will do less work while gaining more profit, thanks to streamlined processes and other efficiencies. In no particular order, here is a list of the best project management systems that can help your team be more productive and deliver every project successfully.


monday.com is a flexible, cloud-based project management system that lets users manage all project aspects from a central workspace. Teams can plan, track, and collaborate easily. Setting up monday.com is quick with customizable templates, and a highly visual interface allows users to hit the ground running with minimum learning curve. Companies of all sizes across industries can connect their processes, tools, and teams on one collaborative platform, eliminating data silos and creating savings with a scalable and secure end-to-end solution.

Smartsheet is a work collaboration and project management solution. It is a dynamic workspace that enables teams to manage projects and automate workflows. Customer organizations across industries report increased productivity, improved operational efficiency, and complete visibility of their projects and teams in using Smartsheet. It offers many tools and features that support best practices for work execution, reporting, and risk management. It also has skill-based resource management, governance and compliance capabilities, intelligent workflows, and intuitive web and mobile apps.

Wrike is a work and project management system for managing cross-functional work and projects. It is a versatile software that allows users to customize the system, so they can make it suitable for the whole organization. Project teams can set and prioritize goals, streamline workflows, and automate reviews and approvals. Wrike features include interactive Gantt charts, automation, customizable dashboards, Kanban boards, advanced reporting, and capacity planning.

Zoho Projects is an online software that helps teams plan projects, track tasks, and collaborate with all team members. Gantt charts let users build their project plan and track their task schedule. Zoho Projects show critical tasks, dependencies, and all types of deviations between planned and actual progress. It also has task automation, time tracking, and customization to fields, layouts, statuses, and workflows. The PM system is adoptable by business of all sizes with its scalable modules, collaboration tools, enterprise-grade security, and personalized support.

Asana is a team software for managing projects, tasks, and work. It supports project management by helping users stay organized and connected through features like task list views, work timelines, task boards, and automation. Asana provides reports that give real-time insight across projects to help troubleshoot problems. The PM system also has forms to standardize work, calendar to view and adjust schedules, portfolios to address risks, and workload to manage allocation and capacity. It integrates to many productivity tools and apps to allow SMBs and enterprises the flexibility of a comprehensive business solution.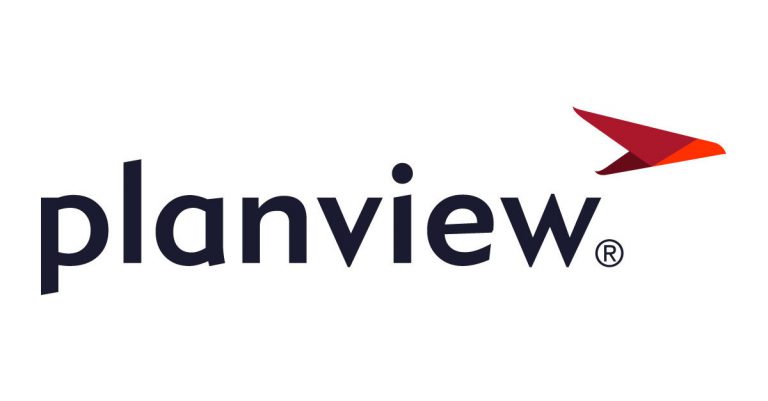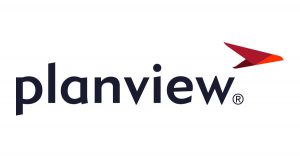 Planview Clarizen is a scalable project management system that helps drive focus and increase effectiveness so organizations can respond faster. It brings together work management, full reporting, project visibility, and an intuitive interface for users of all skill level. Planview Clarizen allows teams to share resources, develop strategies, and align communications. The PM system provides a 360-degree view of all resources, schedules, and tasks. It also has configurable dashboards, a shared communication platform, centralized digital proofing and approval, resource and financial management, and simplified reporting.

LiquidPlanner is a priority-based, predictive online project management system. It predicts work completion so teams can schedule, track, and manage collaborative work effectively. Its unique features include planning intelligence, automatic scheduling, and smart estimation, prioritization, and tracking. LiquidPlanner also provides actionable insights to help users drive decisions at the right time. Some of its features include integrated project portfolio, workload visualization, and task board views for managing daily work.

Sciforma provides portfolio and project management software for businesses. It enables project managers and team members to plan and track their projects to maximize productivity, improve quality and consistency, and increase responsiveness to business and market needs. The PM system also helps users translate strategy into execution, maximize return on project investments, and achieve digital transformation. It has a Gantt view, resource allocation management, scheduling, tracking, and Microsoft Project integration. The software supports waterfall, agile, and critical chain methodologies.

Workzone is a project management system that provides users instant visibility into which projects are on track and which are falling behind. It supports collaboration so everyone can request, share, review, and approve documents online. Some of the tools include project dashboards, interactive Gantt charts, task dependencies, workload reports, and time tracking. Aside from the PM software, it also offers process expertise and support to provide a comprehensive business solution.
Back to top
Ready to Try a Project Management System for Your Business?
The best project management systems are helping project managers and teams keep everything organized, accurate, predictable, and profitable. Choosing the right PM system can give a business the competitive edge they need to get a sure foothold towards further growth.
Featured Partners: Project Management Software
If you're interested in learning more about top-rated project management software, project-management.com actively recommends the following:

People are managing projects very differently today compared to five years ago, thanks to innovative systems, consolidated processes, and more capable tools. Business leaders need to be more aware of how technology affects work, such as how a project management system impacts the way teams complete projects.