To enable its customers and users to gain the best experience and the most value from using the software, ClickUp University provides tutorials, videos, and other resources to help users learn how to get maximum value and ROI out of using the CLickUp project management system.
Table of Contents
What is ClickUp University?
ClickUp University was launched in December 2021 to give users a comprehensive, content-rich resource to learn how to use ClickUp. More than a help page, a tutorial, or a demo video, ClickUp University is an intuitive learning tool that allows users to improve their knowledge of using ClickUp in a centralized and simplified way. ClickUp University includes courses, training, learning paths, and certificates that all work together to advance the learning and experience of the ClickUp user professionally.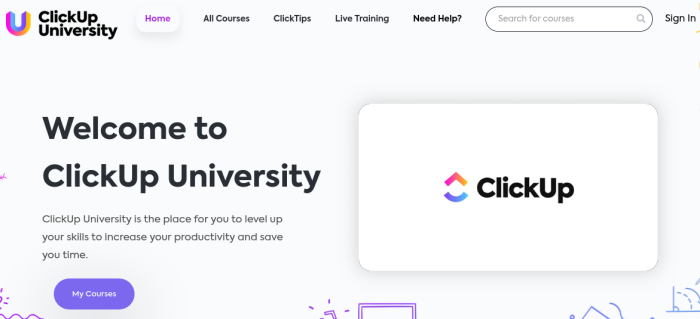 Navigating ClickUp University
ClickUp University setup is easy, giving the users quick, easy access to a ClickUp University's comprehensive library. However, with numerous topics for different types of teams and levels of user expertise, we think users would be best served by better content classification and navigation to ensure they can easily find and select the right courses for their particular roles and levels of experience.
User Roles in ClickUp
ClickUp follows a hierarchy in providing a structured workspace for an organization. It assigns every user a role that comes with certain permissions and privileges.
Member – Users in the organization that actively uses ClickUp
Admin – Users responsible for managing the workspace. They are members with extra permissions for workspace management such as billing, security, and integration
Guest – Users outside of the organization that work on ClickUp through shared workspace items
User Levels in ClickUp
A user can be someone new to ClickUp or someone with years of experience with the platform regardless of Role. ClickUp University takes into account the familiarity and expertise of each user, then presents a list of content and training to help these users learn best from their current level of knowledge.
Novice – New users of ClickUp who need introductory courses
Intermediate – Users who have some months or years of using the basic features of ClickUp but can also benefit from courses that teach how to optimize features
Expert – Users who usually have administrator roles that need specialized and advanced training in managing, configuring, and customizing ClickUp
ClickUp University Resources
To access these different resources, content, and training materials, a user needs to be a registered ClickUp user. For more details on pricing plans, see our just-updated, complete ClickUp review.
Use Cases
ClickUp University presently includes two use cases. The Software Teams and Marketing Teams use cases are team-specific learning paths that include a collection of courses ideal for these functions. For example, when users select the Software Teams use case, they will be presented with courses about creating and planning sprints, managing the product lifecycle, and transitioning from Jira to ClickUp.
Learning Path
There are about a dozen available learning paths for all types of user roles. A learning path includes all relevant content and courses that users can further narrow down to a specific level of user experience.
This means that when novice users choose the Introduction to ClickUp learning path, they will see several courses where they can learn about the essential skills needed to use the software, including how to set up their workspace, use the homepage, or maximize productivity with tasks. Learning paths are also available for intermediate and expert users.

Live Training
The Live Training page includes workshops and on-demand training videos for the different ClickUp users. Users interested in attending virtual workshops need to purchase them ahead of the scheduled date. A calendar is available that shows the date and time of these workshops. On-demand webinars are free-of-charge recorded videos that registered ClickUp users can watch at their own convenience. A filter on the left side of the page allows the user to pick the available course level and type.

While good instruction is worth its weight in gold when it comes to onboarding a team for a mission-critical tool, we would have preferred a tiered payment system, where a portion of the coursework is offered free, with the more advanced subject matter available for a fee. For ClickUp's Business and Business Plus plans, lower-cost training is not an unreasonable expectation giving the system's monthly cost.
ClickUp Certificates
ClickUp University currently offers three types of certificates, one for each user level. Users who pass in-Univrsity exams and gain the certification show that they have clear understanding of the features as well as the necessary skills to use ClickUp as a productivity tool.
For instance, to receive the Novice Certificate badge, the user must successfully answer a 10-question exam covering foundational knowledge from novice-level courses. The Expert Certificate exam, on the other hand, includes 40 questions that can come from a variety of topics mostly related to administration.

ClickTips
ClickUp University also offers ClickTips: short tips and tutorials about 10 key topics. Users can quickly learn about automating tasks, applying a template, or using the Chrome extension. For a quick search, a filter at the side of the page allows the user to choose a specific topic of interest.

New Features, Continuous Learning
As ClickUp continues to improve and add new features, ClickUp University will add related content and courses to provide users the lessons that will also help upgrade their skills. In the meantime, they can browse all available courses from the top menu and filter by topic, use case, course type, role, and level.
Featured Partners: Project Management Software
ClickUp is one of the biggest players in the PM space, with an enormous installed base and ongoing investment in improving the product and user experience. But we realize that ClickUp may not be the right solution for every team. If you're interested in learning more about other top-rated project management software, project-management.com actively recommends the following: